Returns
Your rights to return goods are protected under the EU Distance Selling Directive.
You are entitled to cancel your order and return the goods within 7 working days for a full refund. Do this by contacting us by email or telephone and quoting your Online or purchase order number and the details on the delivery note supplied to you. Your refund will be paid within 30 days. Any postage costs incurred when returning your items will be at your own cost, you are responsible for the cost and risk of loss or damage when returning the goods.
This cancellation policy does not affect your rights if goods are faulty or misdescribed.
Any goods returned should be in an unopened in their original condition and accompanied by a copy of the delivery note.
These terms apply to your order. We reserve the right to change our terms and conditions at any time.
None of these terms affect your legal rights and these are not diminished in any way. If any term is held to be invalid under any applicable statute or rule of law, that term is automatically omitted from the terms to minimum extent necessary to comply with the law and without affecting the validity or enforceability of the remainder.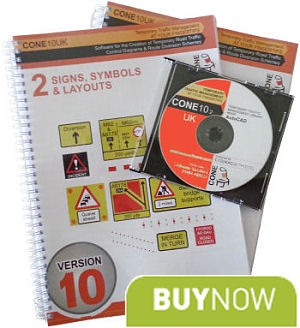 "Traffic Management Solution Ltd of Ipswich needed a solution to providing quality TM drawings and after considerable research selected CONE (Stand Alone) as the product that met all our needs."
"The training provided is outstanding and having been on many training courses over the years - I have to say that this is way and above the best. If you buy Cone - then buy the training because pay back and into profit is in weeks!"
Peter Ryland
Director
TBF Traffic
Ipswich