PRODUCT FEATURES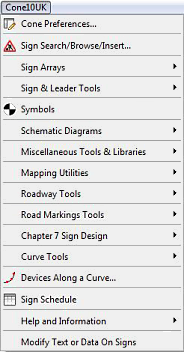 CONE10UK consists of database of over 3000 signs, symbols and schematics in full colour from a single cone
up to sections of roadwork for motorway schemes.

The CONE database is supplemented by a range of easy to use intuative tools and time savers to ease the work process and boost productivity
All the files and tools are fully cross-referenced to user manuals and operation is via a single easy to navigate pull down menu interface and/or toolbars

CONE10UK is delivered on CD ROM with both electronic and hard copy fully detailed user manuals, complete with installation instructions to get you started.
CONE10UK FEATURES IN MORE DETAIL
CONE is an ADD-ON tool for AutoCAD or BricsCAD
Our CONE STANDALONE package (best seller) includes a copy of CONE and a copy of BricsCAD classic
CONE is also available as an add-on to Full AutoCAD (or AEC,CIVILS etc) (Versions 2007 to 2014)
Both packages ensure industry standard DWG file compatibility,
Import DWG/DXF and various images formats
Export to DWG/DXF, PDF and DWF

Hardware Requrements:
Personal Computer / Laptop: Windows 7, 8, Vista, XP
1024 x 768 resolution display or better
2 GB Ram (4GB or more recommended)
CONE is licensed on a per-PC basis and is soft key locked
CONE adheres to and expands upon where applicable the following standards
Traffic Signs Regulations and General Directions 2002

Safety at Street Works and Road Works - A Code of Practice

The Traffic Signs Manual :
Chapter 5 – Road markings (2003)
Chapter 7 – The Design of Traffic Signs (2013)
Chapter 8 - Road works and temporary situations (2009) (Part 1 and Part 2)
Top quality, high standards, ease of use, consistency and speed together with creative flexibility is the key to your success.
At the heart of the CONE system is a vast range of pre-drawn schematic diagrams that adhere to and greatly expand upon the standard requirements of Chapter 8.

Multi-purpose, the CONE schematics cover all aspects of temporary traffic management and have many uses such as basic reference, indicative drawings, pre-tender proposals and when schemes are required for dual carriageways they represent the quickest and most convenient method of producing a TM plan.
CONE schematics are categorised into libraries operated by easy to use tools and include:
Roads and Junctions
Single Carriageways
Dual Carriageways
Road Closures
Standard Detail Drawings
All the signs you will need to create traffic control plans, lane closures, route diversion schemes or any other type of temporary road traffic diagram.
Bilingual Welsh / English and English / Welsh Signs
Copy, move, rotate and scale signs with ease.
Search for specific signs using the preset search topics or enter any free-form search phrase
Easily browse through the sign folder structure and clearly see the signs selected in the large image preview
Modify any variable text and quantities before insertion
Organise signs into categories to your own preferences using the Favourites facility
Signs can be quickly dropped individually onto the drawing with or without sign leaders or the Multi Insert facility enables a range of signs to be placed on the drawing with a single click
Apply the finishing touches to your diagrams with CONE's comprehensive range of symbols and supplementary details
Cones, Tapers, Chicanes, Entry & Exit Crossovers, Linear Devices, Barriers, Vehicles, People and many many more
Chapter 8 detail drawings
Tables and Keys drawings
Feature
CONE includes a large range of tools to assist in the placement of TM schemes directly onto OS, "Google" and other maps.

Easy import and scaling of image maps
Tools to automatically place and align single lane and dual carriageway approaches
Advanced coning and devices tool
Works area hatching
Setting-out and road centre line tools
Curve measuring and marking
Road markings tools and many more…
Benefit
The process of adding signs and symbols to maps can be achieved in minutes allowing you to concentrate on the "bigger picture"
Feature
"True" sign design utilising Transport Fonts
Easy to use tool; signs are created by simply placing and arranging Text Legends, Symbols & Arrows, Route Arms, Roundabouts, Route Patches and Panels as required and then finalising the sign which adds the background plate in the appropriate colour and style along with other finishing options
Benefit
The following sign types can be created in CONE 10:
Temporary Signs for road works, route diversions etc.
Event Management Signs (with additional user defined symbols)
Directional Informatory Signs
Stack Type Advance Directions Signs
Map Type Advance Direction Signs
Dedicated Lane Advance Direction Signs
Flag Type Direction Signs
Route Confirmation Signs
Motorway Signing
Designed to make life easier. CONE time savers are your key to better productivity.

Sign Wizards
Roadway Tool
Leader Tools
Sign Labeling
Modify Text on Signs
Offset and Innovative Tapers
Curve Toolbox
Rulers and Markers
Cone Easy Commands
Road and Line markings and other features in line with Chapter 5 of the Traffic Signs Manual
Lines, Hatches, Chevrons, Normal & Elongated Text, Zig-zags, Yellow box junctions, T-Junctions, Zebra and Pelican crossings, Arrows and other symbols
Create Bill of Quantities in no time
Benefit
Need a bill of material, inventory or a picking list? - Create one in seconds with CONE.
Various output options or simply import back onto the current drawing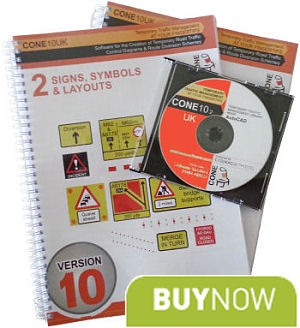 "Traffic Management Solution Ltd of Ipswich needed a solution to providing quality TM drawings and after considerable research selected CONE (Stand Alone) as the product that met all our needs."
"The training provided is outstanding and having been on many training courses over the years - I have to say that this is way and above the best. If you buy Cone - then buy the training because pay back and into profit is in weeks!"
Peter Ryland
Director
TBF Traffic
Ipswich