FREQUENTLY ASKED QUESTIONS
For CONE10UK Features. CLICK HERE
The CONE UK versions are delivered on CD-ROM and come complete with full colour printed copies of the CONE User Guide and the Signs and Symbols manual.
There are four manuals in total, the other two being the Standard Layouts manual and the Chapter 7 Sign Design Guide.
All the manuals are provided in PDF format
CONE is licenced on a Per-Pc basis and is softkey locked. There is no compulsory ongoing maintenance charge
If you want to have two working copies of CONE on separate computers, you must purchase a second copy, we will discount multiple copies of CONE purchased by the same company.
The heart of the cone system is huge range of libraries based upon Chapter 8 but greatly expanded to cover all possibilities
Signs: All the signs you will ever need for TM works and diversion schemes
Symbols: Cones, barriers, vehicles, too many to list here
Layouts: These are mainly arrays of signs approaching a works or closure Priority, 2 way, Give and take, Stop & Go, Portable Traffic Lights and of course a huge range for dual carriageways
TSAM's: Standard layouts (exemplar drawings) covering everything from footways to dual 4 lane motorways and everything inbetween.
Yes, CONE has a comprehensive Chapter 7 Sign Design Tool and a simple quick tool for creating single, double and chevron plates for advance notifications and other Regulation 53 requirements
We tend to bring out a new version of CONE every 2 years, which either corresponds to a major change to Chapter 8 or a major update of CONE productivity tools, CONE 10 was released this year, Updates are not compulsary many of our infrequent users are quite happy with older versions of CONE and do not upgrade every time.
Please contact CADaptor Solutions, tel 01484 489796 or email info@conesoftware.com to arrange upgrades
Ideally we will need to know your existing customer user number, which is printed on the installation CD-ROM label or you can enter CONEINFO at your CAD command prompt.
The two CONE 10 versions are identical in functionality
The AutoCAD version works with AutoCAD 2007 to AutoCAD 2014 (which you need to purchase separately)
The STANDALONE version comes complete with a copy of BricsCAD Classic
YES. Raster images (bmp, jpegs, tiffs etc) often saved from internet aerial photos or scanned from maps can be loaded into the parent CAD program and quickly scaled using the new CONE10 mapping features.
YES. CAD vector files are usually supplied in DWG or DXF format and you can obtain them very quickly from various outlets - See the resources area for more details.
YES. There are 2 common types of maps: raster and vector. Raster types are images (bmp, jpegs, tiffs etc) often these are scanned from maps. Vector types are usually supplied in DXF format and you can obtain them very quickly from various outlets - See the resources area for more details.
NO. But please call us and we will give you as much assistance as we can.
See the resources area for more details
CONE is a simple package to use however in general most users require some training on the parent CAD package
We can provide training if required
Please see here for further details
Not if you purchase our STANDALONE version which is 100% AutoCAD compatible.
Over 20 years and counting
£1100 for the AutoCAD version and £1460 for the STANDALONE version
see price list here
BricsCAD will read and write AutoCAD format DWG files, version 15 of BricsCAD uses the latest AutoCAD 2013 file format as standard.
All CAD drawing commands, templates and features such as object snap modes are similar if not identical between the two programs, and so any CAD skills learned are transferable.
Sorry No, however, there are plenty of examples in the Tutorials section
Sorry No, however, you can download a 30-day trial version of BricsCAD v15 from www.bricsys.com
CONE will run on a quite basic specification PC.
To get reasonable performance from the CAD program, we recommend:
minimum Intel I5 processor or equivelant,
minimum 2GB RAM, preferably 4GB,
Cone10 Standalone requires 1GB of hard disk space,
the AutoCAD version will require 725MB in addition to you AutoCAD installation.
You can use wither a 32-bit or 64-bit operating system
Sorry, No
After version Cone 9.0 we no longer support the AutoCAD LT environment, please consider the Standalone version as an upgrade alternative.
We will ship via DHL next working day delivery.
Provided you can clear payment before lunchtime, we will ship the software that day & you should receive it the following working day.
YES.
CONE10 works on both 32 & 64 bit operating Windows systems.
Yes, however, you must run a Windows emulator program.
CONE is designed to run under the Windows Operating system, and not the native Macintosh Operating System.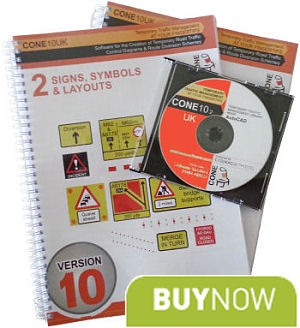 "Traffic Management Solution Ltd of Ipswich needed a solution to providing quality TM drawings and after considerable research selected CONE (Stand Alone) as the product that met all our needs."
"The training provided is outstanding and having been on many training courses over the years - I have to say that this is way and above the best. If you buy Cone - then buy the training because pay back and into profit is in weeks!"
Peter Ryland
Director
TBF Traffic
Ipswich