CONTACT US
CADaptor Solutions
The Heritage Exchange
Wellington Mills
Plover Road, Lindley
Huddersfield
HD3 3HR
Tel: 01484 489 339
Email: info@conesoftware.com
For further information, please contact us using the details above or alternatively use the contact form.
CONE software is a joint venture between Andrew Sturrock I.ENG. AMICE, FIHIE and CADaptor Solutions
Andrew is a highly regarded, nationally recognised exponent and authority in the design of traffic control plans and he helped over a period of 20 years to improve the standards of temporary traffic management in the UK.
Andrew is the creative force behind CONE, he is responsible for the design architecture and standards of all of the many thousands of signs, symbols and layouts contained in all versions of CONE.
CADaptor Solutions are the developers, marketers and sole distributors of CONE
CADaptor Solutions deliver effective CAD, Software Applications and Interactive Media. We provide creative and technical solutions that meet clear communications and business goals. Since 1993 we have developed Websites, Computer Aided Design Applications, Database, CD-ROM, Visualisation and Integrated Multimedia Solutions
For more information about CADaptor Solutions please visit the web site at www.cadaptor.co.uk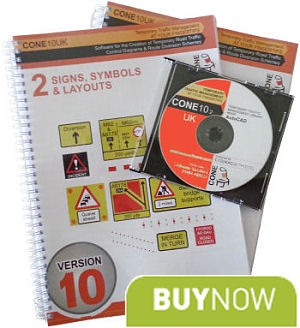 "Traffic Management Solution Ltd of Ipswich needed a solution to providing quality TM drawings and after considerable research selected CONE (Stand Alone) as the product that met all our needs."
"The training provided is outstanding and having been on many training courses over the years - I have to say that this is way and above the best. If you buy Cone - then buy the training because pay back and into profit is in weeks!"
Peter Ryland
Director
TBF Traffic
Ipswich